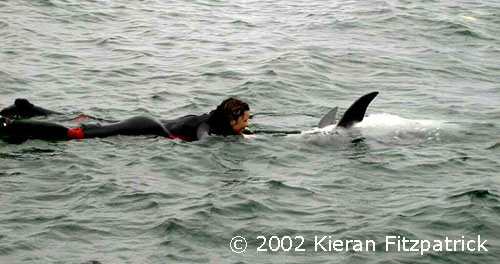 This winter was a stormy one along the west coast of Ireland and it was no surprise that Dusty went missing from Fanore/ Derreen for a couple of months. However now the weather has calmed down, it seems that she is seeking out human company once again.
Of course many of Dusty's fans have been feeling her absence since she disappeared before Christmas and some have been scouring the coastline north and south in case she would turn up somewhere else nearby. It's very appropriate that it was actually surfers from Lahinch who found her again, as this is the same band who first discovered and befriended the dolphin in Doolin back in 2000. In fact it is probably thanks to the surfers that Dusty came to trust human beings in the water at all. And not many people other than surfers are out and about along the Clare coastline in the middle of February, either!
We understand that the word spread to some of the regular dolphin swimmers about the 20th February and that they met up with Dusty again soon after that. She is currently in the Green Island area of Liscannor Bay, north of Milltown Malbay (about 30km south of her previous position), but is not always to be found in the same precise location. This may be a blessing, as only the more dedicated dolphin followers will track her down and the crowds which raised issues at Doolin and Derreen should not be a problem.
A lot of people are very relieved to know that Dusty is safe as there was always the possibility that she had been injured or killed. A dead dolphin was in fact washed up at Fanore early this winter and hundreds if not thousands of dolphins are known to die in fishing nets off the Irish coast every year.

Sadly we have heard that some of the regular swimmers have been trying to keep secret the fact that Dusty is alive and well and has re-appeared off the Clare coastline. These same people have of course themselves benefited in the past from the networking within the dolphin community (including this website) which spreads news of the various interactive dolphins and their locations. Increasingly it seems that some people want to exclude others once they are 'in the know' and there is the danger of a self-chosen elite claiming some kind of exclusive rights of access to Dusty. We can only hope that this is arising out of a misplaced desire to 'protect' Dusty in some way and not from pure selfishness and arrogance.
We have always promoted best standards of behaviour for interacting with wild dolphins but we do not presume to judge whether dolphins are right or wrong to seek out human company, as Dusty manifestly and repeatedly does. We respect dolphins as our equals or betters and do not patronise them by claiming that we know better where they should go and who they should associate with! So, we communicate any news we have and let people and dolphins both make their own decisions. How wonderful it would be if the dolphin's fantastic generosity and openness would inspire human beings to act in a similar way!

If you want to share your pleasure at having enjoyed the privilege of meeting a wild dolphin with others, please keep sending news in to us!