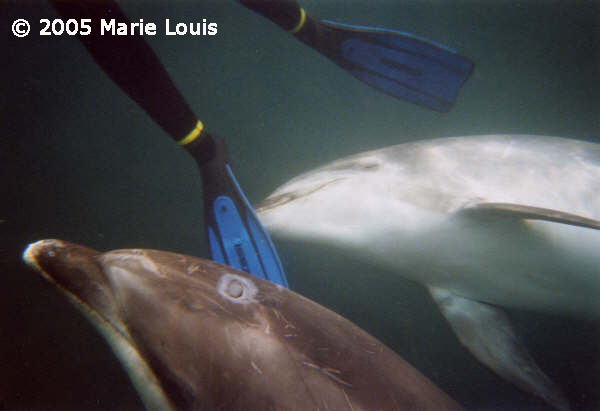 Marie Louis from Strasbourg writes following a visit to Cap Sizun in the third week of April:

I met Jean Floc'h first, it was marvellous and very enjoyable to interact with him! He is very playful and energetic!
Then on the 19th April we had a very big, and very very beautiful surprise, we saw two dolphins: Dony was back!!! I was very happy, I had been dreaming of meeting him for the last 2 years! I swam and played with the two dolphins on 4 consecutive days (the 21st-24th April). They are two extraordinary dolphins!!! I was fascinated by Dony, he is so curious.
With friends of mine from Réseau Cétacés we enjoyed some fabulous days with the dolphins!
They were often jumping, leaping and playing together when nobody was
swimming with them, especially when Dony came back on the 19th, they seemed to be very very happy to be together again, I was very glad for them, it was wonderful!

Dony loved to be scratched, he lay there with his eyes closed and his belly out of the water, it was fabulous; but people who met him last summer or the year before, find him much more energetic!
The two dolphins were fascinated by snorkellers' flippers, especially JF, he loves to bite them playfully (not hard), Dony was more of an observer. They were also playing and swimming very fast with a surfer on his board, it was very funny to see.